What is a selection (or lightbox)?
This is a selection of files (images, videos, documents…) from your website.
They allow your clients to select files, save that selection, and share it with others, along with comments.
Selections also make it easy for the client to download or buy the selected files at once (depending on what you allow for the files).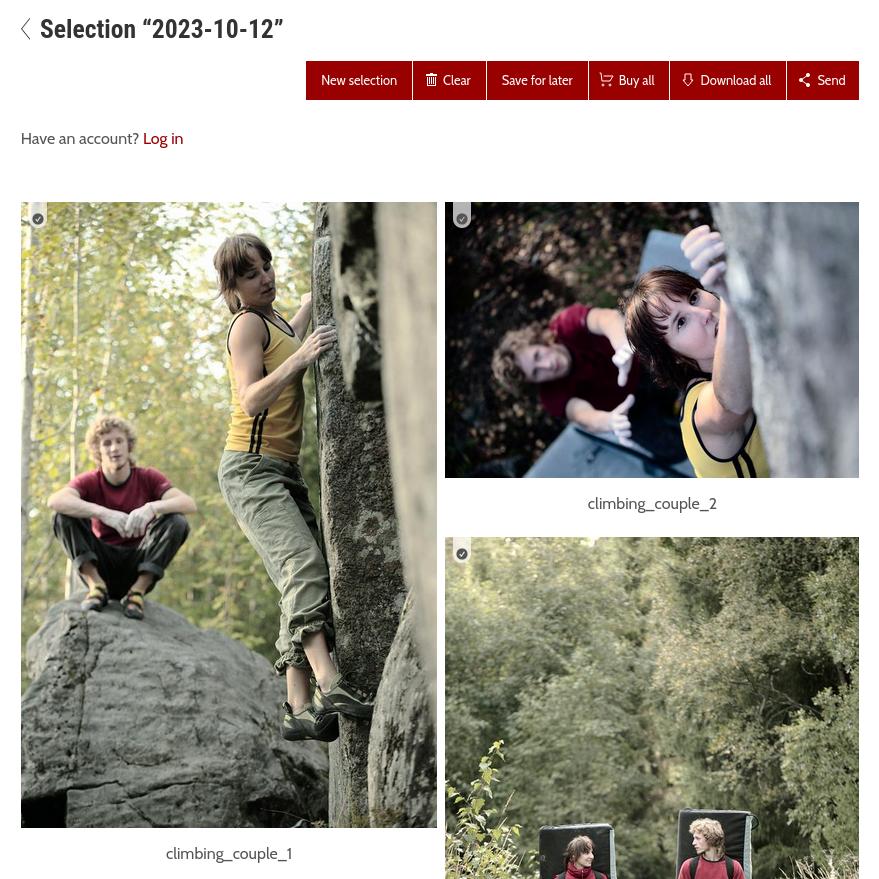 Selections help your clients collaborate and download/purchase multiple files.
PhotoDeck enables you to choose the most appropriate term for your clients: you might use Selection, Lightbox or even Favorites. Technically, this is the same feature, but some would prefer a different wording.
When this feature is enabled, you will find the selections created on your site under My Images & Videos / (your website) / Selections.
Purchasing a selection
A Buy all button is displayed in the selection when it contains files for sale (associated to a pricing profile), and the pricing profile has the setting Offer to add many media to the cart in one go activated.
Selections for new / anonymous visitors
A new selection is created as soon as a visitor clicks for the first time on an Add to selection (or, depending on selected term, Add to lightbox or Add to favorites) button. To be able to access the selection later on, a client must save it to his account (i.e. create an account on your site if needed).
Once a selection is saved, it receives a unique URL and can be shared.
Selections for logged-in clients
Clients with a PhotoDeck Client account can save and manage multiple selections. From the selection page on your website, they can switch easily between selections they have created, and selections that you (or other visitors) have shared with them by email.
When a logged-in client shares a selection, the recipient must log in to edit it (everyone with the link can view the selection).
Read-only selections
When sharing a selection, a logged-in client can choose to keep the selection "read-only". This way, the person with whom the selection is shared can view but not modify the selection.
Controling the selection access
Click on Authorizations to open the access control panel. You can add new clients to the access list, and indicate whether they are allowed to modify the selection.
Note that providing access to a selection does not circumvent the access rights given in galleries. For private galleries, the recipient of a selection must also have access to the gallery/galleries the selection's images are taken from.