Step-by-step setup guide
Don't waste time, get the first version of your website in minimum time!
This guide is designed to help you achieve two things, in an efficient manner:
1- Quickly evaluate PhotoDeck
We've worked very hard to build a product we are proud of, a solution to real-life needs. But we also recognize that we can't be everything to everyone, each solution has benefits and drawbacks, and more importantly, everyone has different needs. We don't want to waste your time.
2- Get a functional working website in minimum time
This guide will help you focus first on what really counts, in order to get a working solution that effectively supports your business in as little time as possible, without compromising potential future improvements and customization.
Follow these steps -- and keep in mind websites are ever-evolving
So with both objectives in mind, the approach we recommend is one of progressive iterations: For example, if you are looking for an integrated portfolio and proofing solution, you should not spend days customizing the design before even setting up the proofing part.
We recommend you follow the steps outlined in this guide, but you can safely skip some and get back to them later on.
Remember that everything in PhotoDeck can be changed or refined at a later stage.
Please let us know if you have comments or suggestions to improve this guide!
Set up the first main galleries
In this section, you will create your first galleries in such a way that they match the purpose(s) of your website and provide a solid foundation for the long term.
What is a Gallery?
Galleries are groups of images shown on your website. (Services and applications other than PhotoDeck might also call them "albums", "folders" or "categories").
Images must be published in galleries to be visible on the website. You can publish an image to multiple galleries.
Like folders on a hard disk, Galleries are hierarchical: you can create up to 10 levels of sub-galleries.
How should I organize my galleries?
With PhotoDeck, it is possible to create up to 1000 sub-galleries under any gallery, including the root gallery. Each gallery can contain up to 50000 media.
For maximum flexibility and ease of management, you should organize your galleries like you would organize folders on your computer, creating a "category" of galleries for each type of galleries you will create.
Even if you can change the structure later on, it is advisable to do it right initially, especially if search engines (Google) are important to you: changing the structure might affect individual galleries' URLs.
If you plan to use PhotoDeck for a single purpose (for example, portfolio display or stock), you can skip this step. But if you feel you even might use PhotoDeck for multiple purposes in the future (e.g. public galleries AND protected client galleries), we recommend to create the proper structure upfront.

Gallery structure illustration
Create the first-level galleries on your site
Here are a few important examples - you don't need to create them all at once:
Portfolio (use the Portfolio preset)
Client galleries (use the Private gallery preset. This section will be hidden on your website.)
Archive / Stock / Fine-art prints… (use the Public archive/ecommerce gallery preset)
Blog (use the Blog preset)
Note that when a gallery is empty, it is not visible on your website.
Gallery Presets
A key promise of PhotoDeck is that your website can be multipurpose. You can combine a portfolio, a client proofing area, ecommerce archives, and even a blog on the same website. Naturally, the presentation of the images and features vary depending on the purpose.
So when you create a new gallery, we present you with a few presets to speed up your workflow. Pick the preset closest to what you need, and if required, you can subsequently adjust the settings once the gallery is created. (You can change all settings at any time).
Preset
Display style
Access settings
Portfolio gallery


Public gallery with Portfolio display style. Ideal for portfolio displays.

"Portfolio" display style.
The gallery is NOT hidden, no free download allowed.
Public archive or ecommerce gallery


For standard, public galleries that balance functionality with aesthetics (e.g. public archive, ecommerce galleries or stock)

"Standard" display style.
The gallery is NOT hidden, no free download allowed.
Private gallery with general password


Same as archive/ecommerce gallery, but with a general password. Ideal for private ecommerce galleries.

"Standard" display style.
General password required. No free download allowed.
Protected gallery for professional clients


Perfect to send high-res images to a client

"Proofing" display style.
The gallery is hidden. You need to give individual clients access to the gallery via the gallery's access settings or the Send by email panel.
Protected proof-retouch-deliver gallery


Recommended when working with professional clients, and when the client must select images before their final versions can be prepared and delivered.

"Proofing" display style.
The gallery is hidden. The client can order high-res images for free but not download them until you set the files in FINAL state and deliver the order. You need to give individual clients access to the gallery via the gallery's access settings or the Send by email panel.
Create your first gallery with content
After you have set up the basic structure for your galleries, you are ready to create your first "real" gallery, with images/videos.
Open the top-level gallery that is most important for your website (Portfolio, Client proofing…), then click on New sub-gallery. This will nest the new gallery under that top-level gallery.
Name it (e.g. "Portfolio 1", "X+Y Wedding"…) and choose a preset.
When the gallery is created, you are finally ready to upload images or videos into it! Upload via the Upload to gallerybutton.
At this point, only upload a few test images. A watermark will be applied to images when they are uploaded, and it cannot be easily changed without re-uploading.
You can also customize the watermark already now, from the upload window.
What kind of files should I upload?
We recommend you upload full-resolution images/videos to benefit most from what PhotoDeck has to offer, as the system automatically generates the preview images on your website. If you are not planning to deliver the images digitally (e.g. if only for portfolio display), and if you don't wish to upload high-res files, uploading 3000px-wide images will you the best long-term flexibility.
Supported formats
Images: JPG, TIFF, PNG, HEIC/HEIF and GIF (including animated GIFs) ;
Raw Images: most common RAW formats including DNG, CR2, CR3, CRW, NEF, NRW, ARW, RAF, 3FR, IIQ…
Videos: all common video encodings ;
Documents: PDF, PSD (PhotoShop), AI (Adobe Illustrator), EPS (Encapsulated PostScript).
Your plan might restrict what formats are permitted, especially for documents. The max image file size allowed with your plan is indicated in the upload window.
Images
Images are best left not sharpened (or only very slightly sharpened as part of e.g. the RAW conversion process), so that your clients keep full flexibility in the printing process.
To save on disk space and upload times, we find that high-quality JPGs (rather than TIFF images) are suitable for most applications.
What image size do you provide to my clients?
In most cases, images are resized automatically. For license purchases that specify a size in pixels or a file size (e.g. Royalty-Free, Rights Managed Web uses), the buyer gets an image exactly the size purchased. For free low-res downloads, we deliver an 800x600 pixel image that has your watermark applied, if it was applied upon upload.
In all other cases where a digital file has to be delivered, we deliver the high-resolution image you have uploaded, without modification.
Image color profiles
All preview images are converted to the sRGB color space, so you can safely upload high-resolution images in the space of your choice (e.g. AdobeRGB), as long as you embed the profile.
Note that for performance reasons (page display speed), the sRGB profile is not embedded in the thumbnails, so the color will be accurate only on the larger previews (assuming the viewer's browser is properly color-managed).
Ready to finally see your website with content on it!
At this point, you have created galleries and uploaded images to at least one gallery. Time to go look at how your website looks!
Click on the top-right corner button with your website name on it. This will open your website in a new window.
For the time being, you will most likely see only a thumbnail for the top-level gallery you have created that contains images, and clicking on it, it will show you another thumbnail for the actual gallery that contains images.
Remember:
Only galleries with images are shown on your website
You will be able to change what the website opens on, it doesn't have to be the top-level index
Feel free to create a couple more galleries if you wish -- or move on to the next step.
Basic website settings
Important note: changes can take a few minutes to appear on your website.
Head over to My Website / Setup / Name & URL.
Adjust your Website name (keep it short)
If needed, adjust the URL to use under photodeck.com. You will always be able to connect to your own domain later on.
Adjust your operating currency and the main language for your website
Remember to hit Save!
Basic design customization
In this section, we will start customizing the website design so that it matches more closely your brand, and so that you get an understanding of the customization possibilities offered within the system.
Customizing my website design
A design in PhotoDeck is only concerned with the overall layout and the style of your website. Designs are like "skins", the same features are always available regardless of your design. Your website has 2 designs, one for desktop computers, laptops and tablets, and the other, optimized for smartphones.
Within any design, it is also possible to greatly customize the way the images and galleries are displayed (via the Gallery Styles), what is shown on the front page when a visitor comes to your site, etc…
The Design panel
This is where you choose and customize the overall "skin" for your website, both for the desktop/tablet and for the smartphone versions. What is done on this panel applies to all pages of your website.
This is where you customize the items that form the layout of your website: logo, navigation menu, colors, fonts, …
The main panel allows you to easily access each component's settings and content.
The Customize theme tab opens the customization tool
Preview - Commit - Revert
You can preview a work-in-progress design via the Preview button (top-right corner of the screen), without it affecting your live website. If you are unhappy with the changes you have made, hit the Revert button to reset the work-in-progress design to what you have on the live website.
Click on Apply once you are happy with the changes. After that point, there is no going back to a previous design.
The customization tool
Changing the global colors allow to easily create a professional-looking and unique color palette, when the individual components' colors are automatically computed:
The options follow a hierarchy: what is customized at the global level applies to any individual component, except if that component defines its own customization. Hovering with the mouse over an option group shows what components are affected by these options:
Similarly, clicking on the "filter" icon on a component (for example your social networks icons) will bring up all relevant customization options:
Every setting has a "switch" which allows to activate or deactivate its customization:
Customized individual colors (left) vs colors automatically computed from main colors (right)
Gallery Display Styles
The gallery Display Styles allow you to customize how images are displayed, based on the purpose of the gallery they are in. Please refer to the section on Gallery Display Styles for further help.
PhotoDeck websites are designed to adapt automatically to small displays like tablets. When you change your design, it is therefore important that you make sure your website still looks great on tablets. If you don't have a tablet, simply progressively make your browser window smaller until it is approximately half the width of a standard laptop display, and you will get a good feel on how it will behave on small tablets.
To get started, pick a theme
Head over to My Website / Design and explore the base themes. First, look for a theme that has the layout you like most. Then, select the color variant that is closest to what you'd like.
Once you've found the base theme that is closest to what you wish, click on Commit & apply to live website. This will apply the theme to your website.
Preset themes are just starting point for your customization.
Using my own logo
To use your own logo:
Prepare your logo in the size and format it will be displayed on your website. If it is meant to be displayed in a side column, it is best not to go over 130-150px of width, depending on the theme. We recommend saving the logo as a PNG file, with transparency if appropriate.
Go to My Website / Design and open the logo options by clicking on the filter icon above the logo and opening the logo options in the left-hand side column.
Click on the Image option. In the popup window, upload your logo file, or select a previously uploaded file.
Your logo is now visible in the preview window. Once you are happy with it, click on Apply to apply the changes to your live website.
Adjust colors and fonts
You can also quickly adjust the colors and fonts used on your website, still under My Website / Design
Display Styles: controlling how images are displayed
Gallery display styles make it easy to change the way galleries are displayed on your website, from full-screen auto-scaling slideshows to mosaic tile walls.
A gallery style applies to all galleries using that style.
Gallery styles allow you to display images and galleries in a different way, according to each gallery's purpose.
For example, gallery styles let you:
Display the image / video information under the preview, or behind an Info button, as well as select what information (metadata) to display ;
Change the quality / resolution of images and videos displayed on your website ;
Change the size and positioning of thumbnails ;
Let galleries open on thumbnails or on their first image ;
Let galleries be viewed as slideshows ;
Activate the fullscreen mode ;
Hide / remove certain components, like the Search ;
Set how many thumbnails are displayed per page ;
…
To change the Display Style used by a gallery, open that gallery under My Images & Videos, then click on the link displaying the current display style in use, located right below the gallery title.
Default gallery styles
Each theme includes the following default display styles:
| Style | What for? | What it does |
| --- | --- | --- |
| Portfolio | To showcase your work with as little visual distraction as possible | Aesthetics first: large images, no distracting action buttons or metadata (so it's not suitable for ecommerce or proofing galleries), automatic slideshow, no search box. |
| Proofing | Optimized for client galleries and to select images. | Uncropped thumbnails, easy access to proofing features and image information. |
| Standard | General-purpose style, also used for search results | Somewhere between the Portfolio and Proofing styles, good compromise between usability and aesthetics. |
| Blog | Blog index and blog posts | Displays a gallery like a blog: big previews on the same page, image descriptions readily visible as text, … |
Customizing gallery styles

The preview window lets you navigate and see changes as you make them
Enlarged images/videos
This section gives you complete control over how opened images and videos appear in your galleries. This is also the place to adjust slideshow behavior for full-screen auto-scaling slideshows using, for example, the Portfolio style.
It is in this section that you can adjust the size / quality /resolution of the images and videos displayed on your website.
Note that image quality on a website is always a compromise between:
- displayed size on screen
- quality
- loading time (its importance is too often overlooked)

You can adjust various settings in the gallery display styles to maximize quality:
- use a higher size - this will result in longer loading times
- turn upsizing off in the auto-scale settings
- reduce the allowed crop
Also make sure that you upload files that are at least 3000px wide.
Image/video thumbnails
This section controls the thumbnails that open the actual images and videos of a gallery.
Choose from great presets such as the magic mosaic wall tile, or edit small details like whether or not to display download icons on the thumbnails.
Gallery covers
This section controls the cover thumbnails that open sub-galleries, like the main "Galleries" gallery.
For example, you can try here different ways to display the gallery titles on or under their thumbnails.
A notable option here is the Click on gallery cover opens parameter. This will dictate if visitors see a large image / slideshow or thumbnails when they first enter a gallery.
Thumbnails pages
You will find here options that apply to pages of both gallery covers and image/video thumbnails.
Hide components in this display style
This section allows you to hide parts of your design in the galleries that use this gallery style.
Changing your website's frontpage
The front page ("home") is what visitors first see when they go to your website URL. It can be changed under My Website / Front Page.
The front page can be:
The index of all top-level galleries, displayed as thumbnails. This is the default. Hidden galleries are excluded.
A specific gallery. For example, you can display a portfolio gallery with a selection of your most unique shots and videos (see below to create an impressive frontpage slideshow).
Alternatively, if you have organized your galleries by categories (e.g. "Portfolio", "Archive", …), you can also put the most important top-level gallery/category as the frontpage. The index (thumbnails) of sub-galleries under it will then be displayed.
A custom page, if you prefer to have a free-form page on your frontpage, for example with a full-page background slideshow (see tutorial below). You can select a different frontpage for your smartphone website.
If you set a specific gallery as the frontpage, you will need to make sure that the other galleries are accessible via links in your navigation menu. Refer to the section on menus for further help!
TUTORIAL 1: displaying a full-bleed background image, video or slideshow on your frontpage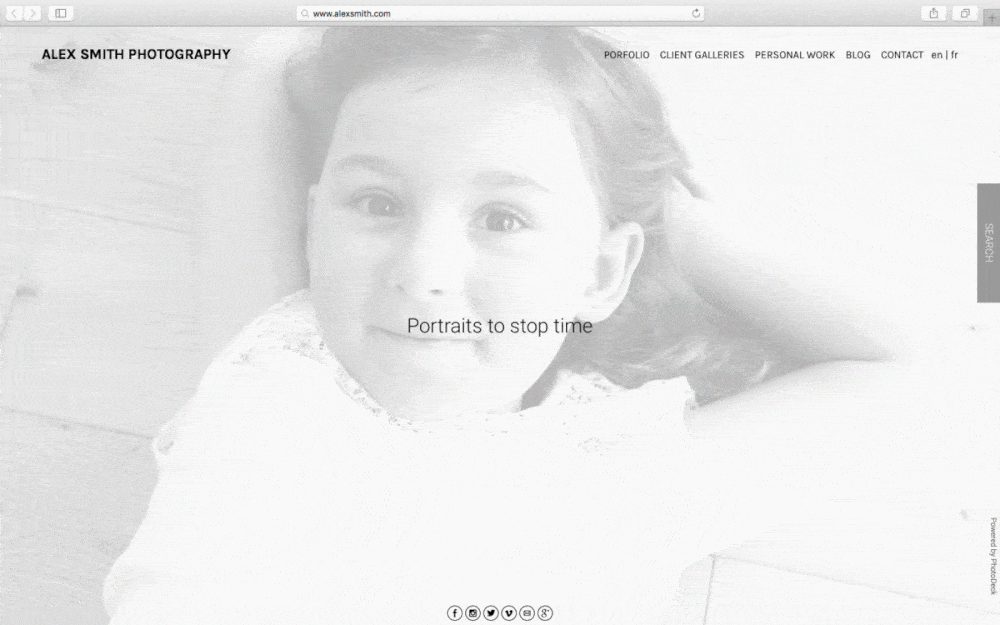 Frontpage slideshow with multiple images and taking the text from the image titles
Create a new custom page under My Website / Pages not in menu ;
Leave the page content blank, and click the Banner / background button ;
Select the Background template, optionally add the text that will be displayed over the slideshow, and hit the Create button ;
Select the gallery you want to take the slideshow images / videos from. You can also hand-pick the images you want to include (the slideshow can be limited to a single image or video)
Adjust the settings under the Text section to taste. If you display several images, instead of (or in addition to) a fixed text, you can also use the images titles to have the text change with each image. You can also adjust the slideshow luminosity and text color for legibility ;
Under the page's Settings tab, set the page as the website frontpage.
TUTORIAL 2: Displaying an auto-scaling slideshow on your frontpage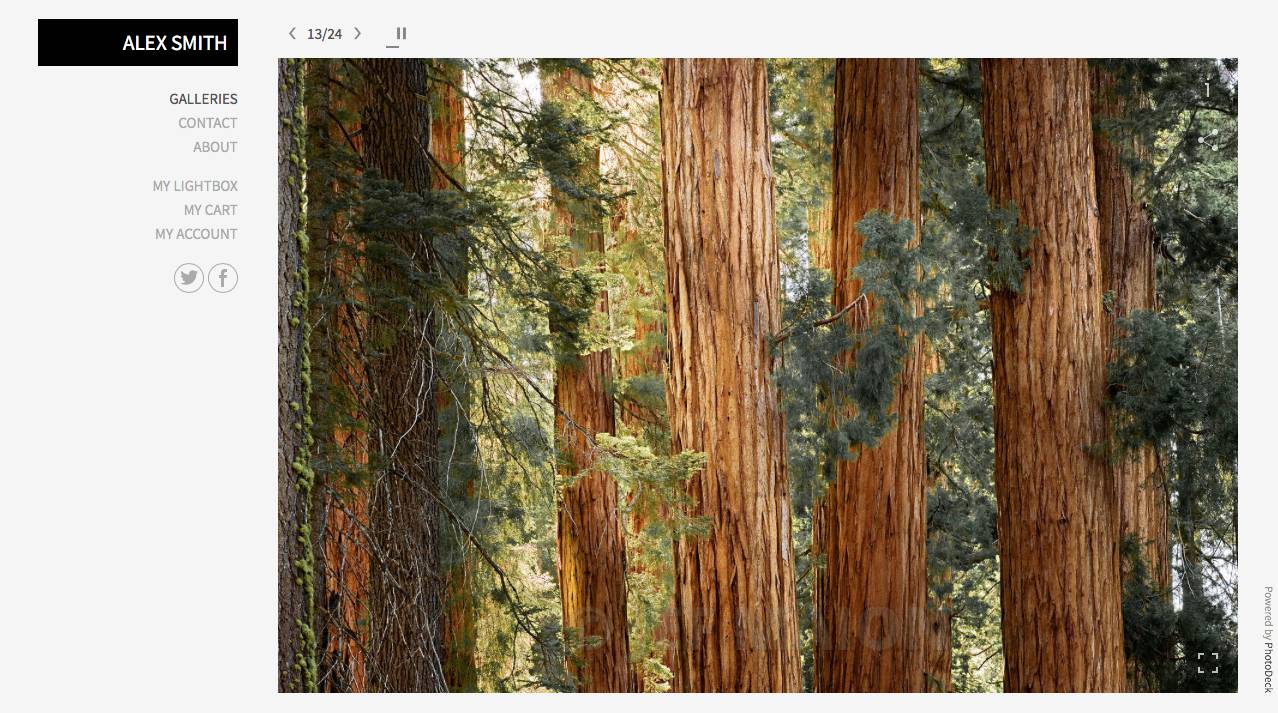 Set your frontpage to be a specific gallery, one that contains the images you want to display (see above). It can one of your existing galleries, or a new gallery created for that purpose.
Make sure that gallery uses the default 'Portfolio' display style. (You can also use a different gallery style, but it must be set to open galleries to their first image, with both auto-scaling and slideshow enabled.)
If needed, adjust the slideshow timer, loop type, transition style and maximum image crop by editing the display style. You will also be able to hide the Selection and e-commerce buttons if appropriate.
Optional: if you wish, you can also hide the gallery so that it doesn't appear in the galleries thumbnails index.
The size and layout of the slideshow within the page will be directly based on your design.
Going further with design customization
It is possible to go further in customizing your design, via the Advanced tab of the Design editor, as well as by customizing the gallery Display Styles.
Note that this can be a time-consuming task without direct impact to your business. Unless you are only building a simple portfolio website, we recommend that at this point in this guide, you move on to populating your website and setup ecommerce and/or proofing features.
Setting up client galleries
In this section, we will see how to create your first client galleries for two common assignment cases: private consumers as clients (for social photographers), and editorial/commercial proofing with professional clients.
Galleries for private clients: events, portraits, weddings
Here is a recommended way of setting up galleries when working with private individuals, where privacy and simplicity are key.
Once you have set up a first gallery, it will be easy to reuse the same settings for other clients.
Create a new gallery, ideally nested under a common "Client Area" gallery. Use the Private Gallery preset. The gallery will use the standard Gallery Style, which is a good balance between aesthetics and proofing functionality. The gallery will be hidden, i.e. not visible in the thumbnail navigation for maximum privacy.
Click on the Private, hidden link to open the access settings. Set a password to access the gallery. Setting a general password will not provide you with as much detail as to who exactly accesses the gallery, but it will be very simple for your clients. Save.

Optionally, you can allow commenting on images and/or star-rating (More / Comments and star rating).
Upload the images into the gallery.
If the images are for sale, attach the proper pricing profile(s) to all images in the gallery.
Done! All you now have to do is send the link to your clients, with the password. You can do that under the Send by email panel. Don't forget to indicate the gallery password in the message!
Allowing free high-res downloads to consumers
In some cases, you might want to allow your clients to download high-res files. This can be done by adding new authorizations to the access options.
Note that you can allow only specific clients, based on their email, to download the images. This has two benefits: you get a better control and view over who downloads what, and you can allow a wide group of people to purchase from the gallery (say wedding guests) while allowing a subset (e.g. groom and bride) to download high-res files for free. The drawback is that it requires your clients to create a login on your website in order to access the free downloads.
Alternatively, you can allow anybody with access to the gallery to download for free. This of course, will override any download pricing profile set for the individual images and won't provide you information on who downloads images.
Please refer to the help on authorizations for further help!
Galleries for professional clients
PhotoDeck is designed to let you work with professional clients in multiple ways. Here are some examples of what you can do:
Send in a few clicks a link to download multiple files;
Quickly create a secure gallery for proofing and 1-click download;
Let the client choose and order images to edit/retouch, and then deliver them easily;
Host client photos archives;
…
Once you have set up a first gallery, it is easy to reuse the same settings for other clients.
Proofing gallery with immediate download
In this example, we create a hidden gallery that lets the client view the images/videos and download them in a click, one by one or all at once.
Create a new gallery, ideally nested under a common "Client Area" gallery. Use the Protected gallery for professional clients preset. The gallery will use the Proofing Gallery Style, which focuses on proofing functionality. The gallery will be hidden, i.e. not visible in the thumbnail navigation for privacy.
Upload images into the gallery.
Open the Send by email panel and add your client(s) email addresses as well as the download authorizations. Hit Send.
Done! You can always check/edit the client permissions under the authorization panel accessible via the Protected access link above the thumbnails.
To go further:
For improved security, or if you wish to track who downloads, you can add authorizations based on individual emails, either to access the gallery or to download. It is then compulsory for the client to authenticate on your website. If you choose this option, don't forget to deactivate the accesses for the line Anybody in the authorization table - please refer to the help on private galleries and authorizations for more details!
You can create custom download products to automatically reprocess files before delivery to the client: resizing, renaming, metadata update, etc…
You can show the download options for files in FINAL state only (e.g. retouched files).
To get familiar with the process from a client's perspective, try it yourself with a "test client" email address! For clarity, make sure it is different from your PhotoDeck login, and test with a different browser (or in a private/anonymous window in your browser).
Proofing and delivery of files to edit/retouch
This section will show you how to let a client order (without payment) for retouching a selection of images or videos out of an unprocessed shoot, so you can process/retouch ordered images and deliver them, in a professional and integrated way.

Gallery of out-of-camera, unedited images with download and selection features activated. Clicking on the download icon will add an image to the cart for ordering.
Create a new gallery, ideally nested under a common "Client Area" gallery. Use the Protected proof-retouch-deliver gallery preset. The gallery will use the Proofing Gallery Style, which focuses on proofing functionality over aesthetics. The gallery will be hidden, i.e. not visible in the thumbnail navigation for maximum privacy. In addition, this preset allows immediate delivery only for files in FINAL state.
Upload the "proof" images/videos into the gallery.
Open the Send by email panel and add your client(s) email addresses, without changing the download authorizations. Hit Send.
Done! Your clients are now able to order a selection of images as downloads.

Typical settings for a full assignment proofing gallery.
When your client has made a selection and placed an order, you will be notified by email. When you receive the order:
If needed, reprocess/retouch the images/videos on your computer. Upload them into the gallery making sure you use the same filenames as for the proof images, and using the Replace image option. This will replace the proof images with the final ones. In the upload form, also set the status of the new uploads as FINAL, which indicates to the system that the files are ready for delivery.
You can also replace individual files via their Replace button, and change their state in their Metadata panel.

Replaced images in FINAL state in the administration space
When all (or part of) the images have been replaced with their final version, open the order, and click on Recalc items shipping method, then Deliver PENDING downloadable items now. This will trigger the delivery of the FINAL images to the client.

Image delivery on the order page.

Replaced, FINAL images in the gallery. They can be re-downloaded from the gallery at a later stage, for example if the client loses the files that were automatically delivered to them.
To go further:
You can explicitly indicate on the gallery what files are not retouched/edited: put the files in question in PROOF state, and make sure that the gallery style used by the gallery is set to display the file states on their thumbnails. The retouched (final) files will also be clearly indicated.
This method makes edited files orderable again and directly downloadable. It is also possible (in the download options) to only offer ordering for files in state PROOF or UNDEFINED.
To sell files to edit/retouch, use a pricing profile attached to the files instead of free downloads - the same options for processing and delivery are available. Similarly, it is also possible to sell whole galleries to retouch/edit, via the Price option for the gallery in question.
Hosting an image/video archive for a client
You can use subgalleries for a client and host a small archive, for example mixing both already retouched/paid downloadable images as well as files to order.

In this example gallery, PROOF images can be purchased while FINAL images can be directly downloaded.
To allow a client to download immediately certain images (or video clips) and purchase editing for others, you can mix the use of free downloads and pricing profiles:
Assign files the state PROOF or FINAL based on whether they are edited/retouched or not;
Activate free downloads, offering them (via the download options) only for files in state FINAL;
Attach to all images a download pricing profile, offering it (via the profile's options) only for images in state PROOF.
Setting up e-commerce basics
You can safely skip this section if you are not interested in using PhotoDeck to sell images.
In this section, we will see how to price images/videos and/or full galleries.
To get started, create your first "pricing profile".
What is a pricing profile?
A pricing profile is a set of prices that is applied to individual images (to sell a whole gallery, see the gallery's options instead).
It can be a simple price list, or a much complex structure for which the final price depends on a number of options -- PhotoDeck gives you extreme control over your offering and your prices.
To show prices on your website for an image or video clip, you must attach one or several pricing profiles to the image / video clip.
Defining several pricing profiles allows you to split your media library into different pricing tiers, and/or sell different kinds of products.
There are multiple pricing profile templates available to sell downloads, prints, stock photography, videos and documents, and all can be deeply customized.
Creating a first pricing profile
Go to My Business / E-Commerce / Products & prices to create a new pricing profile: use one of our example templates, then adjust to taste the options and prices. Start with only a few options initially.
Once your pricing profile is defined, go to My Images & Videos, select the images you wish to sell under that pricing profile, and in the right-hand-side panel, attach the new pricing profile to these images.
On your website, pricing options will then appear for these images.
At this point, we strongly recommend you test the system, putting yourself in the role of a client, to better understand how it works. For clarity, remember to use a different email address for the test client than the one you use to access your PhotoDeck account!
Selling a gallery as individual images, or as a single product
The images/videos in a gallery can be sold independently (as separate items), or a gallery can be sold in full (in this case all files are sold to the customer under a single price, regardless of the gallery size).
To access the pricing options for a gallery, open the gallery under My Images & Videos and open the Prices popup.
Selling individual images
This section attaches pre-defined pricing profiles to all files in the gallery. It simply automates the process of selecting one or more images or videos and attaching/detaching pricing profiles. Please refer to the pricing profiles documentation for more information about pricing profiles.
Selling a whole gallery
This allows you to sell a gallery as a whole and deliver all files under a single price. Just like for individual images, it is possible to sell the original files downloads and/or also to sell lower-resolution downloads.
In addition, it is also possible to sell the gallery as an "offline" product, i.e. a product that you will deliver outside of the system (e.g. physical product).

Multiple options to sell a full gallery
The "Buy" button will appear on the gallery (thumbnails pages) if and only if the gallery display style used by the gallery doesn't hide the gallery-wide "action buttons". In addition, this feature is only available for galleries of 500 files or less.
Going further with ecommerce setup
With a pricing profile defined, you can delve deeper into setting up a shipping profile, if you sell physical goods, as well as a tax profile to compute taxes at checkout based on the location of your clients.
In addition, you will probably want to connect to a payment solution provider, like for example PayPal, or offer a solution for offline payments.
You will find help with these topics on their respective pages in your admin interface. You can also perform these steps later on.
Going further
By now, you should have a fully working website, and a pretty good understanding of PhotoDeck's overall capabilities.
We've just scratched the surface
Our objective is to offer a simple interface for the most important tasks, but provide you with extended control at the same time, via advanced options. There is plenty to be customized and many, many options, so if you have a special need, either in terms of design or in terms of functionality, feel free to explore further!